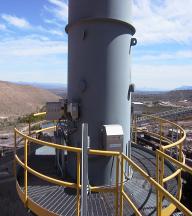 With a unique array of EPA stack testing services and combustion consulting expertise, CETCON (Combustion and Environmental Testing Consultants) is committed to uncompromising emission measurement quality.
Due to stringent federal regulations today's operators of combustion-fired equipment demand highly accurate emissions monitoring and combustion consulting. CETCON is a company solely dedicated to this high-tech field.
Utilizing custom-designed mobile testing laboratories for stack testing, CETCON services can be provided directly to your plant site, therefore requiring minimal set-up time. All equipment and procedures are in accordance with U.S. EPA Reference Methods. CETCON also provides field maintenance service and training for fired equipment.